Solar panel usage has increased in Del Mar over the last several years because more people are looking for greener energy solutions to save money on their electricity bills.
One of the most popular green energies is solar energy because there is an unlimited supply of it brought to Earth from the Sun. All you need to do is harness as much solar energy as possible with your solar panels. But the only way that can get done is by having them cleaned every half year.
It is common for dirt and grime to accumulate on your solar panels because they are left outside all the time. Dirty solar panels will have limited ability to draw energy from the sun and produce electricity for your home or business. So you need to hire a professional cleaner to remove the debris and keep your solar panels sparkly clean.
As a result, you'll have a highly energy-efficient solar panel system producing more solar energy for your building. Sooner or later, the money you save on your electricity bills will surpass the small investment you make in our solar panel cleaning services. Do you need solar panel cleaning in Del Mar? Call us at (619) 780-7773 to submit your request or ask questions about our services.
Learn More About Solar Panel Cleaning in Del Mar, CA
Periodic Solar Panel Inspections Are Important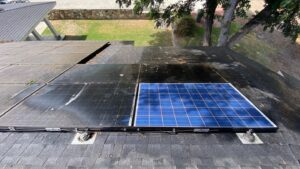 We recommend you request a solar panel cleaning service no matter what. But if you need an excuse to request this service, then look for the signs of solar panel filth. For instance, you may experience reduced solar energy output or flickering appliances and lights inside your building. You can also go outside and check to see if debris is covering your panels. These circumstances would demand immediate cleaning assistance.
OnPoint Solar Panel Cleaning offers solar panel inspection and cleaning services in Del Mar. Since you may not be able to see every microscopic particle covering your solar panels, it is better to have us perform periodic inspections to ensure your panels are clean. If we see they are unclean, we'll use our advanced knowledge and equipment to clean them safely and efficiently.
Green Cleaning Solutions
OnPoint Solar Panel Cleaning uses some of the most sophisticated green cleaning solutions to clean solar panels on all types of properties, including residential, commercial, and industrial properties in Del Mar. Most solar panel owners prefer our industry-approved cleaning solutions because no harsh chemicals or ingredients exist. Then you can have peace of mind knowing your solar panels and the environment will both remain safe.
We Serve All Del Mar Residents and Business Owners
OnPoint Solar Panel Cleaning is the leading solar panel cleaning company in Del Mar and across San Diego. If you happen to live or run a business in this area and own a solar panel system, you should request our solar panel cleaning services at your earliest convenience.
Contact Us For Solar Panel Cleaning Del Mar
Never attempt a self-cleaning job when it comes to your solar panels. The complex nature of solar panel cleaning requires a professional to oversee it. Then you can avoid injuring yourself by falling off the rooftop accidentally. Not only that, but you can avoid damaging your solar panels too.
Do you need to request a cleaning service for your dirty solar panels in Del Mar? Call us at (619) 780-7773 to submit your request or ask questions about our services.
More Posts You May Find Interesting